Questlove Will Teach NYU Students About Classic Albums
Cue up&nbsp;<em>Led Zeppelin</em>&nbsp;<em>IV</em>,&nbsp;<em>Off the Wall</em>, and&nbsp;<em>Paul's Boutique</em>.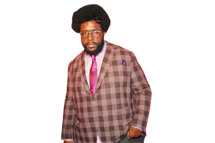 Questlove is co-teaching a course called "Classic Albums" this spring at NYU's Tisch School of the Arts. Some records that the very busy, very wise Questo will scholarize include Led Zeppelin IV, Off the Wall, Paul's Boutique, Prince's Dirty Mind, and Aretha Franklin's Lady Soul. Part of the school's reasoning in bringing in the Roots bandleader was that "in a lot of ways he already is an informal, unofficial professor, not just in hip hop but in music in general." Aced it.