Quiz: Bedsheets or Carly Rae Jepsen's Pants?
Can you tell Carly's wardrobe apart from something you'd sleep on?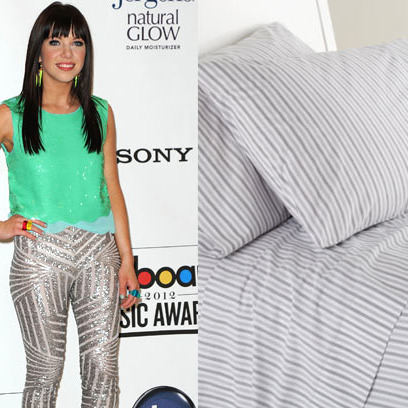 What is the source of Carly Rae Jepsen's mysterious exuberance? Is it her sugary, maple-syrup-based Canadian diet? Probably not. Might it be those blunt bangs of hers? Maybe. But we at Vulture suspect the secret's in her clothing: It's hard to say if we've ever seen a pop star so committed to fun, funky pants. Whether they're striped, tie-dyed, or amorphously patterned, it's as if she walked out of an Anthropologie catalogue ... 's bedding section — like her stylist took one of their sheets and just cut out three or four pairs of pants for CRJ's little legs. Take our quiz below to see if you can tell the difference between the pattern of a pair of Carly's pants and that of some bedsheets.