Stephen Colbert Fans Get Their Very Own Reason to See The Hobbit Movies
Middle Earthiness.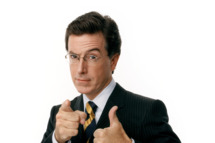 That's right, Colbert Nation, your leader will be making a cameo appearance in one of Peter Jackson's The Hobbit films. The Hollywood Reporter has confirmed the news, first teased by Colbert himself in a recent Playboy issue, with a "knowledgeable source" who — disappointingly — says that the Comedy Central star's character will not appear in the first installment of the new Tolkien trilogy, which comes out on December 14th.*
* This post originally had the incorrect release date.