Your Sunday Long Reads: James Deen, Scary Movies, and the Sad Story of Susan Boyle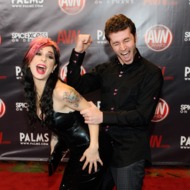 It's Sunday afternoon — your last chance to read all that stuff you meant to read last week before Monday brings a new deluge of things you will want to read. Below, some of our recommendations:
"James Deen vs. the Nebbishes" by Josh Lambert (Los Angeles Review of Books): Is James Deen good for the Jews?
"Cinemetrics: Oh, the Horror" by Zach Baron (Grantland): One critic bravely comes to grips with his scary movie problem.
For more in-depth weekend readings, visit our friends at Longreads.
Photo: Ethan Miller/Getty Images