A Toddlers & Tiaras Star in a Little Rascals Project? Might As Well
Eden Wood's hit the big time. Sort of.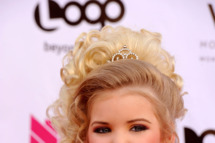 Remaking The Little Rascals is certainly an idea. But bringing in Toddlers & Tiaras's 7-year-old Eden Wood — star of her own spin-off, Eden's World — as the eye of Spanky's affection? Well, that's another thing. Luckily for those whose blood is currently rising to a rage-boil, this new work of cinema is a straight-to-DVD endeavor and therefore probably easily avoidable. Or easily embraceable — no judgment. As in, don't tell anyone you bought this, and then no one will judge you.