A$AP Rocky Will Get a Tour's Worth of Chances to Grab Rihanna's Butt
Also, he'll maybe finish his album now.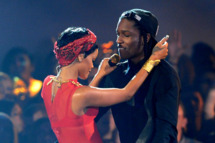 He'll be on Rihanna's Diamonds tour next spring, which presumably means that he will also have managed to finish LongLiveA$AP by next spring. Anyway, VMAs ass-grabbing: It pays off, apparently.