Aaron Sorkin's Steve Jobs Movie Is Three Long, Real-Time Scenes
Can you imagine how much Sorkin fast-talking we're in for?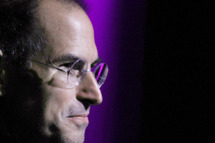 Aaron Sorkin talked a bit of standard reverent talk about Steve Jobs at the Daily Beast's Hero Summit before dropping the bombshell that his biopic "is going to be three scenes, and three scenes only, that all take place in real time." They'll be half-hour pieces set backstage right before three product launches: the Mac, the NeXT (Jobs's 1985 post-Mac computer), and the iPod. So no, this isn't shaping up to be any kind of Social Network 2.0.