American Chopper Will Chop No More
Believe it or not,&nbsp; <em>American Chopper</em> was actually still on.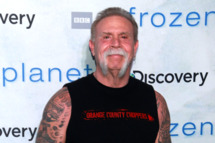 American Chopper has been canceled, according to EW. Does it surprise you to learn that American Chopper was still on? Per … haps. The show has been on for ten years and has already switched networks twice — it started on Discovery, then moved to sister network TLC, and then back to Discovery, plus the show was canceled once already, too, when TLC dropped the ax in 2010. Chopper definitely had its moments, though: We can remember many a pleasant couch day spent watching marathons of Pauls Senior and Junior degrading one another, and blank hunks of metal morphing into enchantingly elaborate gas tanks. But the show became a lot less fun when every single motorcycle became a "tribute" bike. Why? Why did everything suddenly need to be sad/emotional?