Chicago Fire Sticking Around for a Full Season
NBC is hanging on to the freshman drama.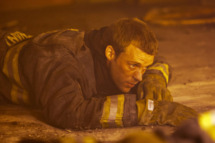 NBC announced Thursday it would keep its nicely rated firefighter drama Chicago Fire for the full 2012–13 season. The show, which aired its fifth episode on Wednesday, has been averaging about 8 million viewers a week. Executive produced by Law & Order's Dick Wolf, the show "mixes TV-14 gore, soap opera entanglements, and working-class-hero earnestness," as New York's TV critic Matt Zoller Seitz put it. The show's good heart and sincerity don't hurt it, either.