James McAvoy Replacing Joel Kinnaman in WikiLeaks Movie
Sadly, replacing Joel Kinnaman.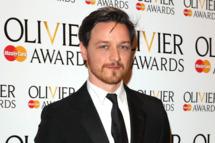 Variety reports that James McAvoy is in talks to star alongside Benedict Cumberbatch in Bill Condon's WikiLeaks movie, replacing the previously rumored Joel Kinnaman (back to the drawing board, slash-fictionists). McAvoy is circling the part of Daniel Domscheit-Berg, Julian Assange's one-time right-hand man, who eventually grew wary of Assange's power hunger. You'd think after Atonement that McAvoy would've learned not to trust that handsome, winter-green-eyed devil.