Jersey Shore Cast Raising Money for Sandy Aid
MTV has scheduled a <em>Restore the Shore</em> special.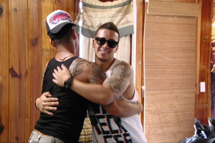 The cast of Jersey Shore will host a telethon next week to benefit the actual Jersey Shore, MTV announced today. Restore the Shore will raise money for Architecture for Humanity, a nonprofit that funds design and reconstruction projects. The live special will air at 11 p.m. on Thursday, November 15, and will temporarily prevent everyone from making jokes about the cast of Jersey Shore.