The Kennedys Miniseries May Get a Sequel
Based on <em>After Camelot</em>, a look at the family from '68 to now.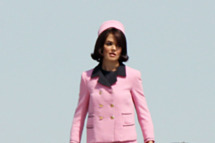 The Kennedys, the 2011 miniseries that wound up on ReelzChannel after being dumped by History, may spawn a sequel. The follow-up in question is an eight-episode affair based on the recent nonfiction release After Camelot, a look at the Kennedys from 1968 to modern day. While some key original producers aren't on board for another round, we've got to wonder if Katie Holmes, Tom Wilkinson, and Barry Pepper would reprise their roles.