Game of Thrones's Kit Harington Eyeing Pompeii
He's negotiating to star in Paul W.S. Anderson's disaster film.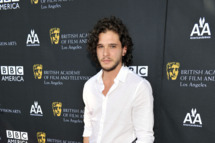 Kit Harington, known to you and yours as Jon Snow on Game of Thrones, is negotiating to star in Pompeii. The film, from Paul W.S. Anderson (Resident Evil, Alien vs. Predator, and, hello, Mortal Kombat!), will tack a love story onto the 79 A.D.-set adventure, Titanic-style. Harington would play "a slave stuck on a ship who must race against time to save his true love, his master's daughter, as well as his best friend, a gladiator trapped in the coliseum when the destruction begins." Zombies are unlikely but possible.