Kristen Wiig and Bill Hader Teaming Up for The Skeleton Twins
Wiig is replacing Anna Faris.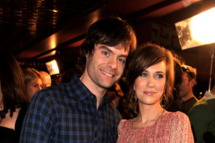 When Anna Faris told us about a project she was planning with Bill Hader called The Skeleton Twins — "we play twins, both incredibly depressed, and it's actually really serious" — it sounded promising. Equally promising is this switcheroo: Hader's co-star will now be played by former SNL buddy Kristen Wiig. The two will play "estranged twins Maggie and Milo, who coincidentally cheat death on the same day, prompting them to reunite and confront how their lives went so wrong." Luke Wilson will also play Wiig's fratty husband.