Life of Pi vs. Life of a Pie: A Character Squares Off Against a Dessert
One would be delicious and one would be delicious to a tiger.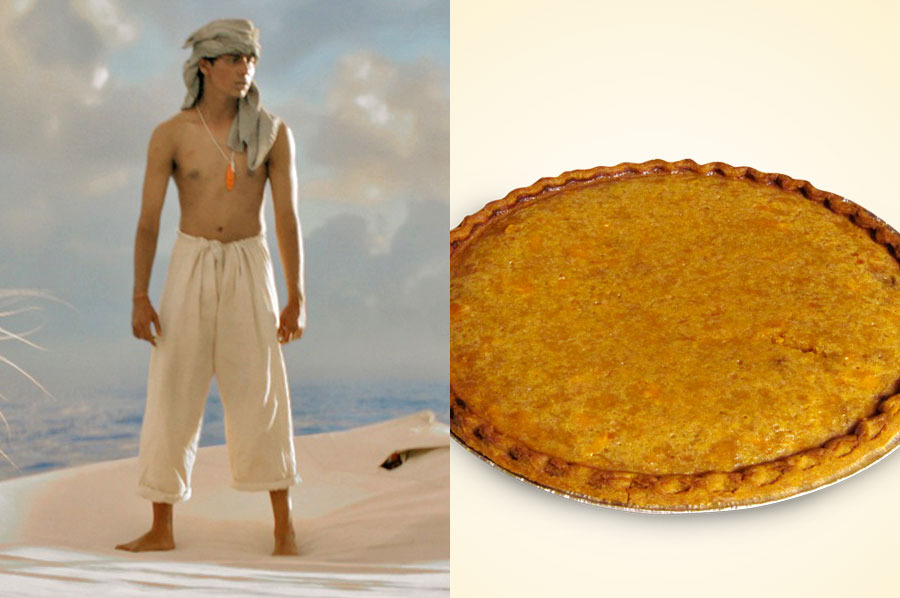 Pi and pie might sound the same, but they aren't. Especially this weekend, when Pi is a movie character and the specific pie we've chosen to represent all pies is a delicious but not overly sweet Thanksgiving dessert. Sure, like Pi's ocean surroundings in the film, this pie is lush and awash in beautiful orangey hues, but there are major differences between Pi and this pie, so we broke the two down for you lest you be confused as to which one to eat and which one to watch get lost at sea with a tiger.
| | Pi | This Pie |
| --- | --- | --- |
| Full Name | Piscine Molitor Patel | Aunt Pam's Wham Bam Thank You Yam Pie |
| Created By | Author Yann Martel | Aunt Pam |
| Currently Resides | Toronto, Canada | Richmond, Virginia |
| Ties to India | Born and raised in Pondicherry. | Some speculate Aunt Pam's secret ingredient is curry powder. |
| Vegetarian? | Yes. | Yes. |
| Religion | Hindu, Christian, and Muslim. | None: It's a pie. Though, it is kosher. |
| Delicious to a Tiger? | Yes. | No. |
| Storytelling Ability | Remarkable: He tells a tale of being stranded at sea. It has touches of magical realism. It can make you believe in God. | Poor: If anything, it tells the story of generations of a pie-making family. But that's only if you're really reading into it. |
| Press Coverage | A Canadian author meets with him to hopefully write about his story. | Cousin June's blog called it: "One of the Top 5 Non-Chocolate Desserts at 2009's Thanksgiving." |
| Relationship to Π | He's nicknamed after Π, because at school he wrote the number out to an unbelievable decimal point. | Multiply its radius squared by Π, and you'll have its area. |
| Symbiotic Companion | Richard Parker, a tiger. | Scoopers' Old-Style Vanilla, an ice cream. |
| Rival/s | A hyena. | Aunt Jan's Yes We Pecan Pie and Uncle Terry's Cherry Tyler Moore Pie. |
| Survival Skills | Extraordinary: He was able to survive on a life raft in the ocean for over 200 days. | Very Poor: It has a shelf life of five days, max. And that's only if refrigerated. |