Lindsay Lohan Was Fighting Over Max From the Wanted
He was flirting with another girl.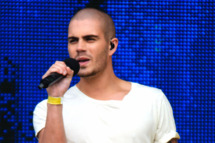 TMZ comes through with the particulars on last night's Lindsay Lohan club brawl, and now a boy band is involved. As reported, Lohan made an appearance at Justin Bieber's Madison Square Garden show, but not to see the Biebz — she was there for the Wanted, and more specifically second hottest band member Max George. (What's up, Siva?) Lindsay met up with Max, Jay, and Tom after the show; they all hit Avenue together, where Max was reportedly "turned off" by Lilo's alleged drunkenness and started hitting on another woman. You know what happened from there.