Mark Duplass Is Certain He Could Out-Cuss Jessica Chastain
We could quote him for you right now, but it gets a little cussy.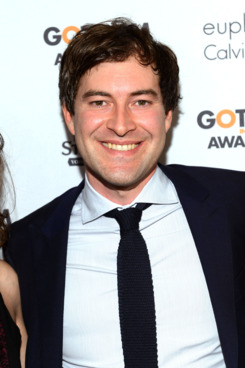 If you've been keeping up with Vulture's coverage of Zero Dark Thirty, you know that there are several talking points to consider when discussing Kathryn Bigelow's Osama bin Laden thriller: Does the movie sort of condone torture? Did the Obama administration give Bigelow and her screenwriter Mark Boal too much inside access? Where can you get Jessica Chastain's aviator sunglasses? And, most important, will you find any better examples of cussing in a movie this year than the three fuck-studded Big Lines dropped by Jessica Chastain in this movie? We ran into Chastain's costar Mark Duplass the other night at the IFP Gotham Awards, and he was excited that Zero had begun screening — "I haven't seen the full movie yet, but I had some friends at the [first] screening, and they assure me it's as good as I hoped it would be" — but when we asked whether he could go toe-to-toe with Chastain when it came to swearing, he threw down the gauntlet. And then he cussed at it. "Okay, hers are a little more incendiary, and mine are a little more invisible," said Duplass. "If we had a fuck-off, you would assume Jessica won, because hers are more pointed, but if you actually counted them up, you would realize I said them three more times, because mine are very subtle. Mine often take the form of gerundives and participles, so they are mellifluous." Rest assured, Vulture will stage this fuck-off. Start practicing, J. Chasty.