Mick Jagger Sees Himself in One Direction
Harry, specifically.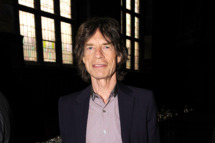 Can you be angry about One Direction–Rolling Stones comparisons if they are made by Mick Jagger himself? Let's find out! "I watched a concert of One Direction on the TV the other night ... it reminded me very much of our early concerts, when we were pushed around among the audience and we would kind of float. [T]hey were like, floating above the audience, and they looked like, really distinctly uncomfortable." Also, at least one of them looked exactly like young Mick Jagger.