Christopher McQuarrie May Direct Mission: Impossible 5
Tom Cruise knows whom Tom Cruise wants.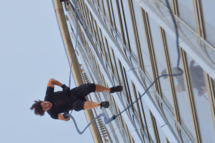 Tom Cruise's Jack Reacher director Christopher McQuarrie (better known as the Oscar-winning screenwriter behind The Usual Suspects, Valkyrie, and Hugh Jackman's forthcoming The Wolverine) is being approached for Mission: Impossible 5. "They will hire writers before making it official, but he's the guy that Cruise and J.J. Abrams want," Deadline reports. The franchise is getting into a neat routine for giving first-timers (Ghost Protocol was Ratatouille helmer Brad Bird's first live-action feature; M:I 3 was J.J. Abrams's first film) and less directorially experienced industry veterans (McQuarrie) one-off turns at the wheel.