NBC Wants a George Washington Drama
Ride <em>Lincoln</em>'s coattails much?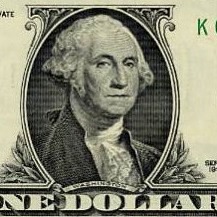 Some news no one was adequately prepared for: NBC is developing a George Washington drama with a murderer's row of talent including Rain Man director Barry Levinson, The King's Speech screenwriter David Seidler, Downton Abbey producer Gareth Neame, and Oz creator Tom Fontana. The series would work from Ron Chernow's Pulitzer-winner Washington: A Life, "hailed as the first biography to unlock the president's complex and enigmatic personality." Don't forget Darren Aronofsky has a Washington biopic in the works, too, because presidents are the new vampires, except when they're hunting vampires.
"What's so interesting is here was a man who was more instrumental to what our country is today and more famous than any other figure in our history, and yet no one knows anything about him," Levinson says. "We know the myth of the man, but the reality was he was a flawed and troubled character who overcame his flaws to become one of the foremost leaders of this nation." Presumably omitted: "And Lincoln looks dope, too, so ..."