Francis Lawrence Will Direct Mockingjay, Too
Three in a row.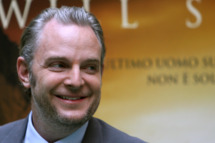 Though the Hunger Games Powers That Be were reportedly considering a new director for the finale, Collider reports that Francis Lawrence — who is currently directing Catching Fire — will also direct the two-part conclusion to the franchise. Mockingjay I and II will debut in 2014 and 2015, so, do not invite Francis Lawrence on an extended Caribbean cruise or anything for the next three years. He's got plans.
*An earlier version of this post contained a typo in the headline. We missed the "j," and we're sorry!