Rihanna's Seventh Album Is Her First No. 1
All those journalists didn't suffer in vain.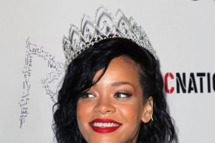 Rihanna no longer holds the dubious boast of having the most No. 1 singles without ever putting out a chart-topping album. Unapologetic, studio release number seven, is her long-delayed ticket to No. 1 on the Billboard 200, debuting with 238,000 copies sold. That's not too strong considering some of the recent chart-toppers (Taylor Swift's insane 1.2 million albums, Mumford & Sons' 600,000), but it's 104,000 more than Chris Brown's July chart-topper Fortune, which is what really counts. Happy No. 1, Rih-Rih — hang the plaque somewhere alongside your thousand-something No. 1 singles.