Rihanna and Chris Brown Will Never Stop Trolling This Earth
They're getting lovey on Instagram.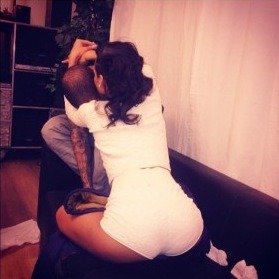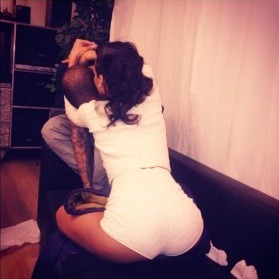 So, you thought today was the day Rihanna and Chris Brown would stop broadcasting the rekindling of their companionship, kissiness, musical collaboration, and possibly love? IT'S NOT. Rihanna, in Germany for a Brown concert, just Instagrammed this photo of herself and the new Twitter exile, captioning it, "i dont wanna leave!!! Killed it tonight baby!!!" Awesome. The fact that Rihanna is celebrating her first No. 1 album — the one that debuted with 100,000 more copies sold than Brown's Fortune — by jetting to Europe, straight after the grueling 777 Tour, to hang out with a guy who not only beat her but basically tattooed a memento of the special moment onto his own neck, is just ... ah, screw it. Starting to sound like Rihanna's dad. (Although not, because her actual dad loves Chris Brown!!) Exhausting, these two.