Rihanna Is Sorry Journalists Had a Bad Time on Her Airplane
"It's impossible to spend time with everybody, and I'm sorry I didn't." Uh huh.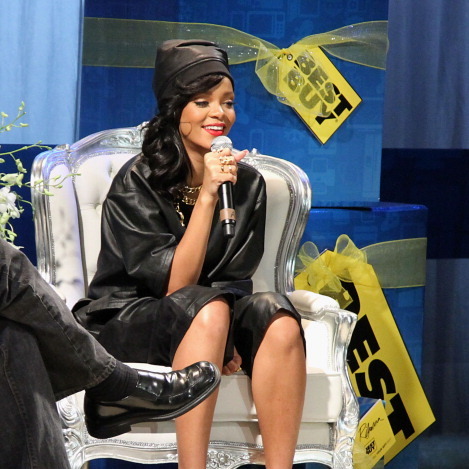 Rihanna, flying directly in the face of her new album's title, is evidently sorry to all the writers and photographers who had a bad time on her by some accounts nightmarish 777 tour (seven cities, seven nights, a couple hundred fans, entourage members, and journalists sleeplessly aboard a Boeing 777). After hitting six stops in North America and Europe, the #rihannaplane returned to New York City on Tuesday morning. Fuse was one of the 150 or so outlets present for Rih-Rih's halfhearted mea culpa:
With 30 minutes until landing, Rihanna herself emerged to field select questions from the press. A few journalists joked about staging a media blackout, imagining a scenario where Rihanna comes out and is shunned in favor of sleep. This did not happen. After answering probing questions like, "Will you be playing Ireland next year?," the singer explained her absence on the tour and apologized to journalists. "I know you guys got barely any dirt," said Rihanna. "But I had to be good. I still sound like shit. It's impossible to spend time with everybody, and I'm sorry I didn't. Usually I will be partying back here [in coach], balls to the wall. But I had to pay attention and take care of my health since I was on the plane all the time."
Us Weekly says Rihanna requested to see the Australian streaker, while PopDust's Julieanne Smolinski fears the Lord of the Flies experience has left her ill: "One writer boarded the plane with pneumonia and another with bronchitis, and I believe at some point their germs combined and forged a super virus in the rich microbial stew of the plane. I can barely swallow, I'm freezing and am pretty sure I'm running a fever (sadly, not of the dance variety). I'm debating calling it Barbadian Flu, Hepatitis R, and Rihannapox."
Better luck next time, friends and comrades. Meanwhile, Unapologetic soars to No. 1 on the charts ...