David O. Russell Wanted Vince Vaughn and Zooey Deschanel for Silver Linings Playbook
That would have been a different movie!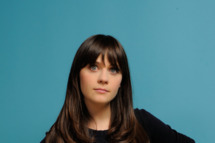 Much has been made of David O. Russell's initial reluctance to cast the magical Jennifer Lawrence in Silver Linings Playbook (he thought she was too young), but try to wrap your head around this: He was originally going to make the film with Vince Vaughn and Zooey Deschanel. As in, Vince "I've Made Way More Bro Movies Than Bradley Cooper" Vaughn and Zooey "Bangs" Deschanel. Is this a sneak attack Oscar campaign to make us realize just how good J-Law was? If so, it's working.