Sherlock Won't Be Back for a Really Long Time
New episodes might not air in the U.S. until 2014.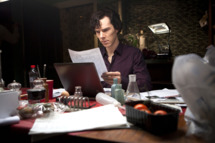 British TV shows continue to operate on their own arbitrary, frustratingly irregular time tables. Sherlock won't be back on BBC until late next year, according EW. Production on new installments was supposed to begin in January, but it's been postponed to accommodate Benedict Cumberbatch and Martin Freeman's packed dance cards. That means new episodes might not air in the United States until early 2014, at which point we'll all have forgotten what television even was because the sun will have pretty much eaten the Earth by then.