Tom Hardy to Star in Film Adaptation of Splinter Cell Video Game
Sadly, the Bane mask is still awaiting its next project.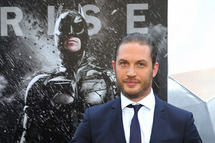 Tom Hardy has been cast as the lead in the film adaption of Tom Clancy's Splinter Cell video game. Over six games, the Splinter Cell series has sold more than 23 million copies. No, it's not about a guy who gets a splinter while dialing his cell, because that would be a boring game. The games center on Sam Fisher, a super-great NSA special operative. He's famous for wearing face-obstructing multi-vision goggles. Can someone tell Hardy that we want to see that mug of his for once?