Virginia Is So Psyched About Lincoln
Largely because of the copious dollars it brought into the state.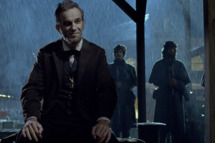 Richmond, Virginia's Byrd Theatre hosted a special screening of Lincoln on Thursday, owing to the fact the production filmed in and around the city. At the event, Gov. Bob McDonnell highlighted the 1,166 jobs and $60 million the film industry as a whole (Clint Eastwood's J. Edgar and Ben Affleck's Argo filmed locally prior to Lincoln) has brought into the state in the past year. Still awaiting word on those highway signs welcoming visitors to Virginia: Hollywood Southeast.