Dane DeHaan Will Play Harry Osborn in Amazing Spider-Man Sequel
No, it's not James Franco dressed like a teenager.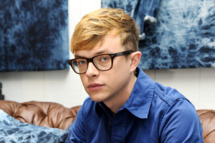 Earlier today, The Amazing Spider-Man director Marc Webb tweeted a picture of Dane DeHaan with the caption: "Meet Harry Osborn." This is a big role for DeHaan, who most recently played Second White Soldier in Lincoln and Cricket in Lawless. (Ok, yes, fine, he also played the lead in the early 2012 found-footage hit Chronicle.) As you know, this is the role James Franco held in the first series. Can't wait to learn everything about Dehaan — hope his farts are sniff-worthy.