The Best Smartphone Games of 2012
Get ready to ignore your friends and loved ones!
Error 503 Service Unavailable
Service Unavailable
Guru Meditation:
XID: 193270251
---
Varnish cache server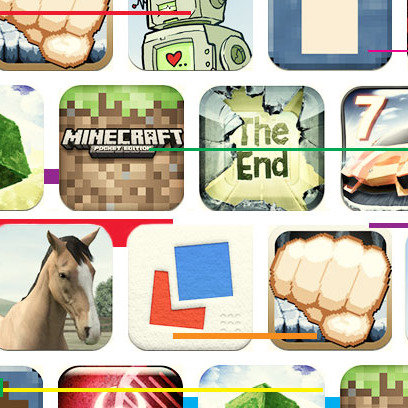 For the past two weeks, we've been revisiting the best pop culture of 2012. We leave you with one last list, one which will hold you in good stead for the holidays. Here are the best of the year's game apps for your smartphone, all the better to sink into a corner and ignore your family with!
Letterpress (iOS, free)
A two-player word game in which words are created from a five-by-five grid of random letters.
Why it's so addictive: A very clever strategic component — it plays like Boggle: The Next Generation — makes Letterpress a truly frightening time suck.
Punch Quest (iOS, $0.99)
A side-scrolling fighting game in which your hero dispatches his foes using only his fists.
Why it's so addictive: For its glorious Chuck Norris–style battles. And the ability to ride a laser-shooting dinosaur.
Girls Like Robots (iOS, $2.99)
A puzzle game in which you must solve increasingly difficult seating arrangements.
Why it's so addicitve: There's plenty of charm and challenges in this goofy title published by Adult Swim.
10000000 (iOS, $1.99)
A "dungeon crawl" role-playing game in which you advance by finding matches in a grid of tiles.
Why it's so addictive: A risky move, pairing two very different game genres — but it really does work
Dream of Pixels (iOS, $2.99)
A "falling-block" game that plays like Tetris turned inside out.
Why it's so addictive: The gameplay is terrific, but we really love the trippy design aesthetic that's cosmic without being New Age–y.
Minecraft: Pocket Edition (Android and iOS, $6.99 )
An "open world" game in which you build things using huge blocks of various materials.
Why it's so addictive: The mobile version of the PC hit manages to retain much of the goofy, low-res charms of the original.
TheEndApp (Android and iOS, free)
A top-down shooter in which characters run through the lava-filled streets of a postapocalyptic city, collecting the valuable commodities necessary for survival.
Why it's so addicitve: It's like Sonic the Hedgehog, with the shiny rings replaced by rolls of duct tape.
Asphalt 7: Heat (Android, $0.99)
A gesture-controlled racing game in which players steer their cars by twisting their phone or tablets like a steering wheel.
Why it's so addictive: The latest version in this best-selling series introduces lots of new cars and tracks.
Plague Inc. (Android, free; iOS, $0.99)
A strategy game in which players attempt to destroy mankind by unleashing an array of pathogens and toxins.
Why it's so addictive: Get past the WTF premise and you have a complex exercise in multi-level problem-solving. Unleash your inner super-villain!
My Horse (Android and iOS, free)
A "virtual pet" game (remember Tamagotchi?) in which you are responsible for the care and grooming of a horse.
Why it's so addictive: Get past the WTF premise and you have a strangely soothing experience interacting with a gentle equine. Unleash your inner Ann Romney!