A No-Frills Buyers' Guide to Just-Published Books
Are <em>Drinking With Men</em>, <em>Good Kids</em>, or <em>The Twelve Tribes of Hattie</em> worth getting?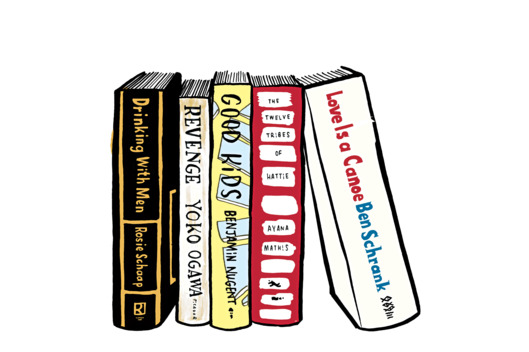 Drinking With Men: A Memoir
By Rosie Schaap; Riverhead; 288 pages; $26.95
Before the northeast corner of White and West Broadway became "J. Crew Liquor Store," it was simply Liquor Store, an actual bar, where, per still-mourning regular Rosie Schaap, "everyone seemed so unfailingly and effortlessly pleased to see one another." The clientele: "homegrown artists," "European expats," "lawyers and law students, local rogues, a tugboat captain, a burlesque revivalist, bankers, kitchen workers … poets — a little cross section of the world below Canal Street." It's one of many bars Schaap, now the "Drink" columnist for The New York Times Magazine, has loved and lost. She has, by her own cocktail-napkin estimate, spent 13,000 hours in bars, usually with men (women friends, she's found, are less keen on becoming regulars). Bar life here is more cozy-countercultural Cheers than scene from the Replacements' "Here Comes a Regular"; drinking seems to bolster people rather than slowly ruin them. But drinking does bolster some people, especially when they're not drinking alone. Buy It
Revenge: Eleven Dark Tales
By Yoko Ogawa; Picador; 176 pages; $14
The title of Yoko Ogawa's book suggests a Type A-positive spatterfest. Yet the eleven lightly interlinked, extremely short horror stories Revenge contains are spare and gore-free, at least on the page. The murders and awful deaths we hear about all happen offstage. That sounds bloodless, but it isn't: The prose is so severe, so spare, that every act of malice glows creepily against the plain background. It's a book that ought to be distributed to every fiction-M.F.A. candidate who tends to overwrite: Ogawa is an expert in doing more with less. Her translator's good too. Buy It
Good Kids
By Benjamin Nugent; Scribner; 224 pages; $23
In Benjamin Nugent's debut novel, a pair of teenage friends swear off infidelity for life when they catch his dad kissing her mom; a decade later, both engaged to other people, they bend that promise together. Early chapters on the narrator's adolescent trials are amusingly observed (the author's semi-autobiographical 2008 book, American Nerd, explored similar territory). But Nugent never quite makes clear what his lead characters see in each other, or why they'd jeopardize their better relationships for it, making the rest of Good Kids — in which star-crossed Bostonians are reunited in faraway Los Angeles by a string of implausible offline coincidences (when a couple of Facebook pokes would have done the job) — pretty ­tedious. Skip It
The Twelve Tribes of Hattie
By Ayana Mathis; Knopf; 256 pages; $24.95
From Ayana Mathis's eloquent, Oprah-approved novel's first chapter, which ends with the shuddering chill of a ­double-infant death, we know that Hattie Shepherd's bright Philadelphia plans, far from her Jim Crow Georgia past, won't pan out. Through the episodic frame that emerges, Hattie's children (her "tribes") get their own chapters — though some have to share, just as they do in the Wayne Street house where Hattie and her husband, August, watch their lives whittled down by trouble of all kinds. Some of that has to do with no-account August's small ambitions and some with inscrutable, outnumbered Hattie, who confesses, "I never did know what to do about my children's spirits." And some of it is the wasted promise of the Great Migration — call it the Great Disappointment — as filtered through closeted musician Floyd, Six the venal preacher, poor crazy Cassie, and all the others. It's a lot to cram into a short novel, and Mathis sometimes seems a little like Hattie, parceling her attention out too meagerly among too many characters. But there are worse things, from a very talented young writer, than leaving us wanting more. Buy It
Love Is a Canoe
By Ben Schrank; FSG–Sarah Crichton; 352 pages; $26
Marriage Is a Canoe, a fictional 1971 self-help book filled with earnest, obvious aphorisms, connects the story lines of this novel. One follows the author, Peter Herman, who 30 years later is a recently widowed man dating a woman he doesn't love. Another centers on the young editor who devises a contest she hopes will revive Canoe's sales — the prize for which would send a couple to spend a relationship-saving weekend with Herman. What results is a satirical, slightly clichéd, but ultimately satisfying take on the publishing world that shows just how thoroughly the pat truisms of self-help break down when confronted with the complex realities of love and marriage. Wait for Paperback
*This article originally appeared in the December 31, 2012 issue of New York Magazine.