Fleetwood Mac Will Tour in 2013
Stevie Nicks sounds pretty confident about this.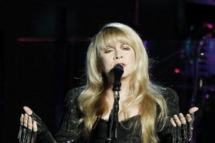 "It's the perfect time to go back out," Stevie Nicks tells Rolling Stone. "2013 is going to be the year of Fleetwood Mac." The band will play 34 North American dates; their last two outings came in 2009 and 2003–2004. "It's never going to be a final tour until we drop dead," Nicks adds to Reuters. (Media blitz!) Nicks pegs the setlist at 50 percent hits (2009 was a greatest hits-tinted run; their last album was 2003's Say You Will), while Lindsey Buckingham guesses more like 75 percent. The tour begins April 4 in Ohio.