Happy Endings, Don't Trust the B Move to Sundays
Uh-oh. Not amahzing.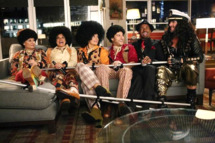 Odd news from the ABC scheduling department today: Happy Endings and Don't Trust the B will be replacing 666 Park Avenue on Sunday nights come January 6. Park's fate was a done deal, but Sunday night sitcoms? It's a world gone mad! The move means that Happy Endings and B will air twice a week for a few weeks, both in this substitute Sunday spot and in their regular Tuesday homes. This is what we call a bad sign, kids. Get those "save Happy Endings" petitions ready.