Hugh Jackman Serenaded His Wife Yesterday
And Anne Hathaway sang "Have Yourself a Merry Little Christmas."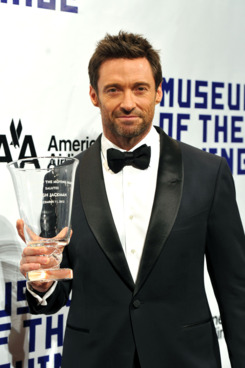 Last week, Hugh Jackman gave his Les Miz co-star Amanda Seyfried a "happy birthday" lap dance. Yesterday, he serenaded his wife, Deborra-Lee Furness, at a lunch hosted by the Peggy Siegal Company at the Four Seasons. "It's way too early to sing," he said, apologizing for a strained voice. "But I saw Sammy Barks in the lobby of the hotel last night in her pajamas at the same time I was there, so I have no excuse." (Barks sang a sultry "Summertime" before he took the stage.) "I don't get to do this very often, but a lot of this week has been about just being grateful for all the people who've made this possible ... so I'm going to sing a song for my wife."
Then, accompanied by pianist Marty Silver, Jackman launched into "The Way You Look Tonight," changing the word tonight to today, with Furness right in front, blushing. "He sings to me at every meal," she joked with Vulture afterward. "No, he does not. It was a complete surprise. He's full of them. And in that setting, it was very moving for me, so I shed a little tear."

"You know, it sounds weird, but when you're doing a press tour like this, getting any time with your wife is tough," Jackman told us when we ran into him for a second time in one day at a gala in his honor held by the Museum of the Moving Image at Cipriani Wall Street. Jackman said he originally invited his wife to the luncheon — or as he put it, "I said, 'Babe, can you come to lunch, please?'" — just for the chance to have "five minutes to chat, because it's been so crazy." The song, as it turns out, was completely spontaneous. "Got some brownie points!" he said with a grin.

Despite Jackman's worries about his voice, he sounded just fine, as did Hathaway, who also downplayed her abilities ("We're all sick and slightly hung-over") before closing out the sing-along with "Have Yourself a Merry Little Christmas" with the other cast members singing backup. "You can do some minor five-part harmony, that's fine," she teased them before Eddie Redmayne's voice rose out of the ensemble in an operatic bray, to much applause.

"They were like, 'Oh, I had stayed up really late [the night before], I can't sing,'" the film's director Tom Hooper said. "And then they sang like angels."