Kate Winslet Married a Man Named Ned Rock'nroll
And Leo walked her down the aisle.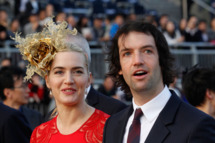 True, amazing facts from the celebrity wedding factory: Kate Winslet got secretly remarried a few weeks back, and her new husband's name is Ned Rock'nroll. If we are going by antiquated take-the-man'-s-name rules, that makes her Oscar Winner Kate Rock'nRoll. Also, adorably, Leonardo DiCaprio walked her down the aisle. Everything about this story is fantastic.