Loder, Soren, Pinfield: MTV's Icons Reunite for Portlandia
Vulture was there for the shoot.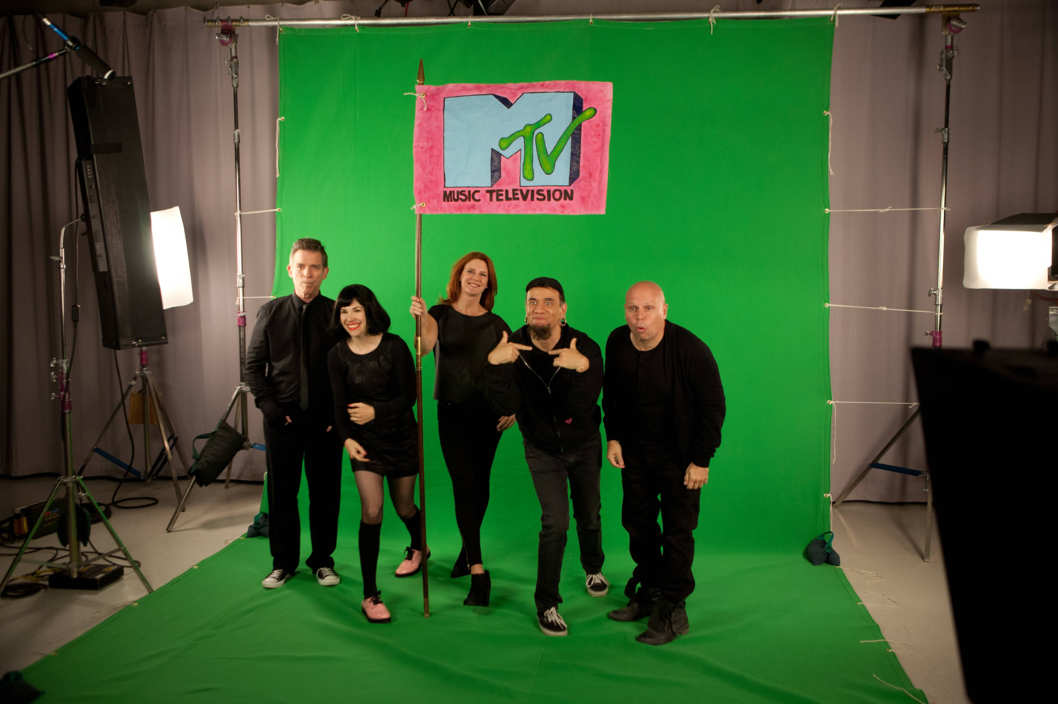 In Portland, Oregon, this September, a veritable Mount Rushmore of second-gen MTV gathered covertly in a darkened room lit mainly by an overhead projector: Kurt Loder, Tabitha Soren, and Matt Pinfield. The trio were planning a revolution in the form of a takeover of their old network, freeing it from the shackles of reality TV and bringing back music. After the network was secured, the group would go on air to announce the new regime, and they rehearsed their potential broadcast. "MTV headquarters was invaded by a band of music liberation people, and Tabitha Soren has the story," said Loder in grave tones recognizable to anyone who remembers the day Kurt Cobain killed himself or Milli Vanilli got exposed as lip-syncers. "Thank you, Kurt," practiced Soren. "I'm down here on the first floor of 1515 Broadway, and I see a band of ... adults, looks like, busting through security. I'm not sure what's going to happen next. We'll let you know. That's the news for now."
Ah, nostalgists, if it were only so. But this coup is not real; rather, the MTV alums were shooting a sketch for the upcoming season-three premiere of IFC's Portlandia (which will air on January 4 following a special pre-season episode on December 14). In this bit of Gen-X wish-fulfillment, Fred Armisen's militant bike messenger Spyke and Carrie Brownstein's nonconformist bartender Iris are leading the uprising with the network figureheads, who, in the world of the show, all live in Portland, too. In the episode's imagining, the plan is to sneak past MTV HQ security in New York to take back the airwaves in the name of music. In a largely improvised scene, Armisen quizzed the group as to how they could be best utilized in the takeover. "You are the brain trust of MTV." Armisen told them, all of whom were holding their own, improv-wise. "Do you have any special skills?"

"I can be sardonic," volunteered Loder.

"I can bullshit my way into the building," Pinfield offered.

"I speak tween," says Soren, who now has three kids.

The MTV vets — who've only seen one another intermittently over the last twenty years — had shot the coup earlier in the day, stalking through the lobby of Portland's Aloft Hotel, which substituted for MTV's New York offices. All dressed in black, they burst into the MTV "offices," going all gangsta as they stormed their way through the gaggles of young MTV staffers. Loder rudely popped the gum-bubble of a girl (a bit that required a few takes). Pinfield shoved another girl out of the way and her paperwork went flying. "I kept checking on her to make sure she's okay," Pinfield said later. "I didn't charge into her, because that would have been cruel — my girth! But she was a good sport, and she can take it."

"It's cute that they would want to [show us taking back MTV]," said Soren between scenes. "Wouldn't we all want a channel we could program with our own favorite music? That's why we were there. We were all deluded enough to think we could influence it a bit. And in the news department, maybe we did. But that doesn't mean we changed the playlists or the videos. Even when we worked there, people were always walking up to Kurt and me on the street: 'Why don't you play this?' No one was content with what they got on MTV."

"I hear it all the time," Pinfield said. "'Oh, I miss it, when you used to play music.' And I never get tired of hearing how 120 Minutes changed someone's musical taste."

Armisen said he thinks that his character Spyke represents that contingent of people who used to love MTV and are shocked by the reality-TV slum it's turned into. To spoof that, series director Jonathan Krisel stepped out from behind the scenes to play Sk8rdOOd, a V.J. hosting an MTV show that counts down the top ten afterschool snacks and questions whether or not babysitters are cool ("Dope or Nope?"). "It's certainly an exaggerated version," Brownstein said. "It's the way many adults think about certain kinds of programming that doesn't relate to them. It seems so foreign, it might as well be run by kids, you know?"

So is this episode one big nostalgia trip? "I don't believe in nostalgia," Armisen said, "so I would say it's more like that sprinklings of the past are good. It's not about the good old days. It's like, 'I want that back on my pizza.' And when you see Kurt, Tabitha, and Matt together, they're like our superheroes. It's our superhero story."