NBC Is Back in the Dane Cook Business
Next <em>Next Caller</em>.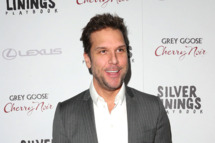 A couple months ago, NBC announced it was dropping Next Caller, a yet-to-air sitcom in which Dane Cook was to play an abrasive talk radio host. The network claimed to be unhappy with the show's "creative direction." Apparently, that wasn't code for "Dane Cook" as NBC has signed a new development deal with the comedian. There's no word yet on what his next show might be. We hear that animal hospital is an available setting once again, so there's that.