Why Pay Cable Can't Let Netflix Have All the Movies
It may seem like HBO, Showtime, and Starz are all about the original series, but movies still matter to them.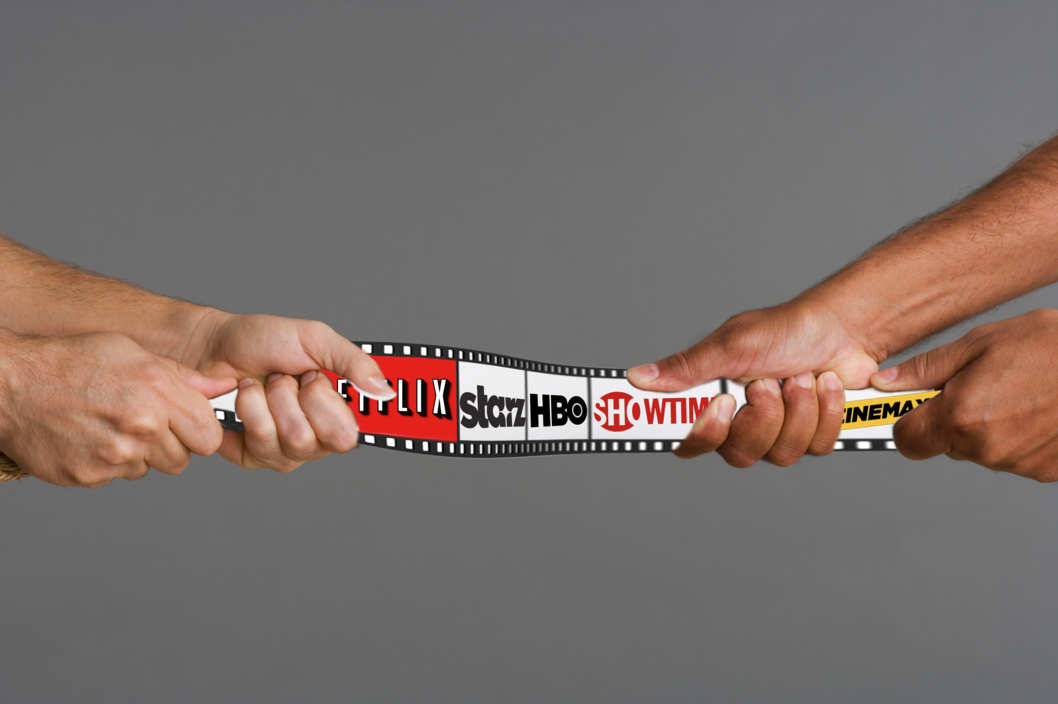 Earlier this month, Netflix stunned the TV business by striking a monster deal with the Walt Disney Co. that will funnel hundreds of the studio's past and future movie titles (everything from animated classics like Sleeping Beauty to the studio's newly acquired Star Wars movies) away from their longtime home on Starz to the streaming service. The shocker wasn't that a big studio would allow its films on Netflix; that's been happening for years. What made this $300 million agreement a "game-changer," as Netflix chief content officer Ted Sarandos called it, is the fact that this is the first time a major player has decided to completely bypass the pay-cable window in favor of a purely digital platform." It marked a coming out for online subscription services as a viable alternative to HBO and Showtime and Starz," Sarandos told Vulture. While many looked at it as a major victory for Netflix, others took it as a sign that movies were becoming less important to pay cablers as they concentrate more on original series. However, for all the attention that HBO has gotten for shows like True Blood and The Sopranos and Showtime for Dexter and Homeland, it turns out that movies are still very important to them. In fact, cable execs argue that in many ways, theatrical movies are still just as important as all the buzz- and Emmy-grabbing series.
Conventional wisdom in recent years has held that pay cable networks' series are no longer just added benefits for subscribers, but the main attraction. Hits like The Sopranos and Sex and the City are why HBO used to brag that, "It's not TV." And when Showtime opted not to renew its movie deals with Paramount, Lionsgate, and MGM back in 2008, it said it was doing so in part because it felt the money it was spending on theatricals would be better used on increasing its original content. (It seems to have worked: Showtime had about 16.5 million subscribers at the start of 2009; today, it has over 22 million, an increase of more than 30 percent — though HBO still tops it with 30 million subscribers.) But HBO original programming president Michael Lombardo says that despite all the buzz about first-run fare, subscribers still want to be able to see Tower Heist at 2 a.m. Saturday night. "It is correct that HBO is most recognized for our original productions, particularly the series," Lombardo told Vulture. "Our consumers, however, still expect to receive recent theatricals. It still ranks high when they are asked why they subscribe and given the output deals we have — FOX, Universal, Warner Bros., and, starting next year, Summit — they know movies are a significant part of the HBO offering."
It also appears as if movies may be something of a gateway drug for potential pay-TV addicts. "Our own research shows potential subscribers cite theatrical films and original production about equally when asked why they may subscribe to the service," Lombardo says, noting that "recent theatricals are more marketable to customers" than older titles because they "still enjoy the awareness that came from the theatrical marketing and we have exclusive rights to them." As for original offerings such as Girls and Game of Thrones, Lombardo suggests they're the meat and potatoes that keep folks from bailing on premium channels when budgets get tight. "Current subscribers … reference series more than any other attribute as the reason for keeping the service," he says. (This suggests a new ad slogan for the network: "HBO: Come for the Clooney, Stay for the Dunham!") Over at Netflix, meanwhile, Sarandos says that despite his new deal with Disney, feature films actually aren't the major draw of his streaming service: "70 percent of viewing is TV shows. About one-third is movies." So why shell out so much coin when TV is already driving growth? Well, in the case of Disney, more than a few analysts have suggested that the Mouse's cultlike appeal with kids will prove invaluable in convincing parents of tots to either subscribe or stay with Netflix. More than that, however, Sarandos says it's because Netflix needs to make sure subscribers feel as if they've got access to an ever-expanding array of viewing options. "The more you watch [Netflix], the less likely you are to quit," Sarandos explains. "We have an ongoing relationship with our customers. We have to keep our customers happy every day … For us, engagement has a direct correlation to retention."
Pay cable needs a similar mix of TV and movies, but for them, the percentages are flipped, partly by necessity: They have too many hours of airtime to fill to depend solely on their own series. Take a closer look at any of the advertising inserts DirecTV, Dish, or most cable operators shoved into Sunday newspapers or those Val-Pak mailers. You'll notice that premium networks aren't just marketed as one-off propositions, but rather as multi-channel (and, these days, multi-platform) experiences: Showtime Unlimited (thirteen channels!), Starz SuperPack (fifteen channels! eight in HD!), HB-Whoa! (okay, we made that one up). All these spinoff channels need content, and reruns of Girls really don't work on HBO Family. The key for execs at the pay networks is making sure they have enough movie titles to keep their "shelves" stocked, but not so many that they're overspending on output deals with the studios. As one unnamed exec told Variety all the way back in 2007, when premium channels were just beginning to balk at the exploding costs of theatricals, there's a sort of Goldilocks formula that pay channels are constantly rejiggering in trying to figure out their feature needs: "They want a certain amount of movies," the suit said. "They just don't want too many."
It's possible this programming equation will evolve as Netflix, Amazon, Apple, and other digital players continue their push to steal away market share from their linear rivals. But just as cereal-makers used to market their boxes of sugar and chemicals as "a delicious part of a nutritious breakfast," Hollywood films are likely to remain a part of the programming mix at pay-cable nets for the foreseeable future. These blockbusters allow HBO and others to market themselves as full-service networks with just about any kind of visual entertainment a viewer might want. This is why you can still find boxing and MMA bouts on premium services (even in an age of ESPN and regional sports nets) or soft-core porn on Skinemax (even in the era of free online porn). New technology has made it easy for movie lovers to get films on demand, but for now at least, there are still many, many folks who simply want to know they can turn on the TV and find an uncensored, commercial-free movie to watch at any time of the day. "Many wrote at the time that the VHS was going to destroy the value of films," Lombardo says. But, "They have always had value. And still do."