Rebel Wilson Is MTV's Movie Awards Host
From <em>Bridesmaids</em>&nbsp;to <em>Pitch Perfect</em>&nbsp;to world domination.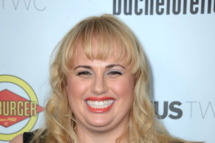 Although it's was announced with a super tacky faux torture scene, the news that Rebel Wilson will host the MTV Movie Awards on April 14 is generally good. She'll be the first female host since Sarah Silverman in 2007. Maybe it'll boost the Australian scene-stealer's star and increase the likelihood of her Super Fun Night series succeeding at ABC.