Richard Gere Plays It Cool About His Golden Globe Nomination
The "I forgot the nominations were even being announced" phase of awards season is in full swing.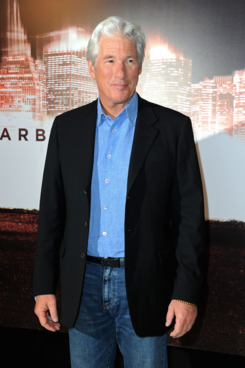 Richard Gere was about as far away from Hollywood as you can get on the day the Golden Globe nominations were announced — in Goa, India, after a trip to a remote spot inland for about a week. He hadn't been getting good cell service, so he left his phone off for the most part. But when he got to the beach, he turned it back on. "There were about 50 messages, and so of course, my first instinct was that there was something wrong," he told Vulture at a lunch yesterday for his movie Arbitrage. "All the dates were the same, so I thought something had happened. Someone had died. But then all the e-mail subject headings started coming up, 'Congratulations,' 'Congratulations,' 'Congratulations.' Congratulations for what?"
"Every two years they say, 'This is your best performance in years,'" he laughed. "'He's finally fulfulling his potential!'" Laughing alongside him was Melissa Leo, one of the Academy members invited by Vanity Fair editor (and Arbitrage co-star) Graydon Carter, who was throwing the Brioni-sponsored event at Monkey Bar. Was Leo giving Gere any tips on how to navigate this awards season, given that if he were to get an Oscar nod as well, it would be his first? "I think I'll just let him flounder," she teased. "See how he does."
Gere hasn't been on the Oscars stage in twenty years, when he famously presented the award for arts direction and pleaded for human rights in Tibet back in 1993. He wasn't "banned" per se for going off script, but awards shows haven't been foremost on his mind over the years. "I don't think about it very much anyhow, to tell you the truth," he said. "And I'd completely forgotten that it was time for nominations, because it was so far away from what I was thinking."

"It's very different talking about work and career at this point, than when I was 30," Gere noted. "I've seen these cycles come and go, over and over and over again. I'm just thankful that I keep finding scripts that interest me more than staying home with my kid. And believe me, there are very few. I haven't found one [since Arbitrage]," whose writer/director Nicholas Jarecki was also on hand. What makes you want to go to work, when there are other things in the world? And I don't feel the pressure to do it, so maybe this is it [Pausing dramatically.] This may be my last movie. All right, I said it!" he laughed. "There, you've got your quote. This may be my last movie."