Tom Cruise Forced to Explain His Un–Jack Reacherish Body
"Why aren't you a behemoth like the REAL Jack Reacher, Tom?"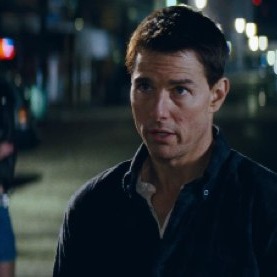 Tom Cruise, basically average white male, is suddenly being forced to justify that averageness after decades of unchallenged action-heroism. Reuters, perhaps dissatisfied no one in the media got a meatier answer out of Lenny Kravitz when he was craaazily cast as the maybe-but-not-definitely-black Cinna in The Hunger Games, decided to go after Cruise. Why? Hello! The guy doesn't have the exact physique boasted by the original Jack Reacher character written in Lee Childs's thriller series. Take it away, Reuters: "Cruise, 50, is just 5 foot 7 inches tall according to the Internet Movie Database, and has a trim physique." Undocumented is the next part, where the reporter exasperatedly asked, "So Tom, why aren't you like 6'2" at least? Movies don't really, um ... change things from books. How can you even conceive playing this killer brute?"
"You know, [Child] created the character," Cruise answered. "I had my own opinion that I didn't say to Lee and then he came back and pretty much reflected what I had felt about it. But had he said 'look I'd rather not,' I would not have played the character." Cruise went on to identify Reacher's size as a characteristic, not so much an entire being. Then we assume he went off the record and asked Reuters what Daniel Day-Lewis told them when they asked how he tackled the role of Abraham Lincoln, having not been born in 1809.