2 Chainz Will Visit 2 Broke Girls
The night after the Grammys.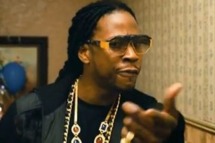 On Feb. 11, the night after 2 Chainz loses Best Rap Album to Drake or Nas or Rick Ross or The Roots (all due respect to that guest spot on "Mercy," though, Sir Chainz — coupe the color of mayonnaise indeed), the artist formerly known as Tity Boi will appear on 2 Broke Girls in a plot featuring Kat Dennings and the Grammys. Round of applause for the event- and name-oriented synergy, everyone. 2 Chainz's previous screen credits include the music videos for "I Luv Dem Strippers" and "Pimps."