All My Children and One Life to Live Returning on the Internet
Via the OnLine Network.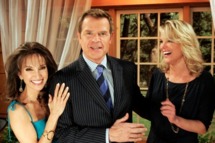 ABC's One Life to Live and All My Children, which both wrapped up in the last 18 months after more than 40 years and roughly 11,000 episodes each, are getting digital revivals. Production company Prospect Park (Royal Pains, Wilfred) will resurrect the soaps as marquee properties for the forthcoming OnLine Network. There's no word as to when new episodes will air or what roles might be reprised. The plan — and the network — has been in the works for more than a year.