Ashley Tisdale Cast As Nicolas Cage's Daughter
In <em>Left Behind</em>. Amazing!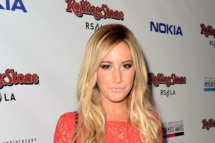 Ashley Tisdale will play Nicolas Cage's daughter in the Christian-themed Left Behind movie. Remember that one? That Nicolas Cage is starring in? Yerp, Deadline says Tisdale will play Chloe Steele, a college student and one of the people left on Earth post-Rapture. Can I get an amen, etc?