The Best Man Sequel Becomes Official, Gets Release Date
Everyone is coming back!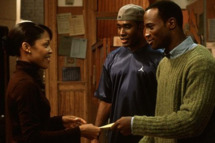 More than a year ago, we told you that Universal was considering the very long-anticipated sequel to the 1999 rom-com The Best Man. This afternoon, the thing became official with a release date set for November 15, 2013. Malcolm D. Lee will be back writing and directing. And luckily, all of the original actors — including Taye Digs, Terrence Howard, Nia Long, Regina Hill, Morris Chesnut, and Harold Perrineau — will be returning as well. No word yet on what the story will entail or if they'll go with the title The Best Man 2: The Bester Man.