A No-Frills Buyers' Guide to Just-Published Books
Are <em>Vampires in the Lemon Grove, The Burn Palace, and Nothing Gold Can Stay</em> worth buying?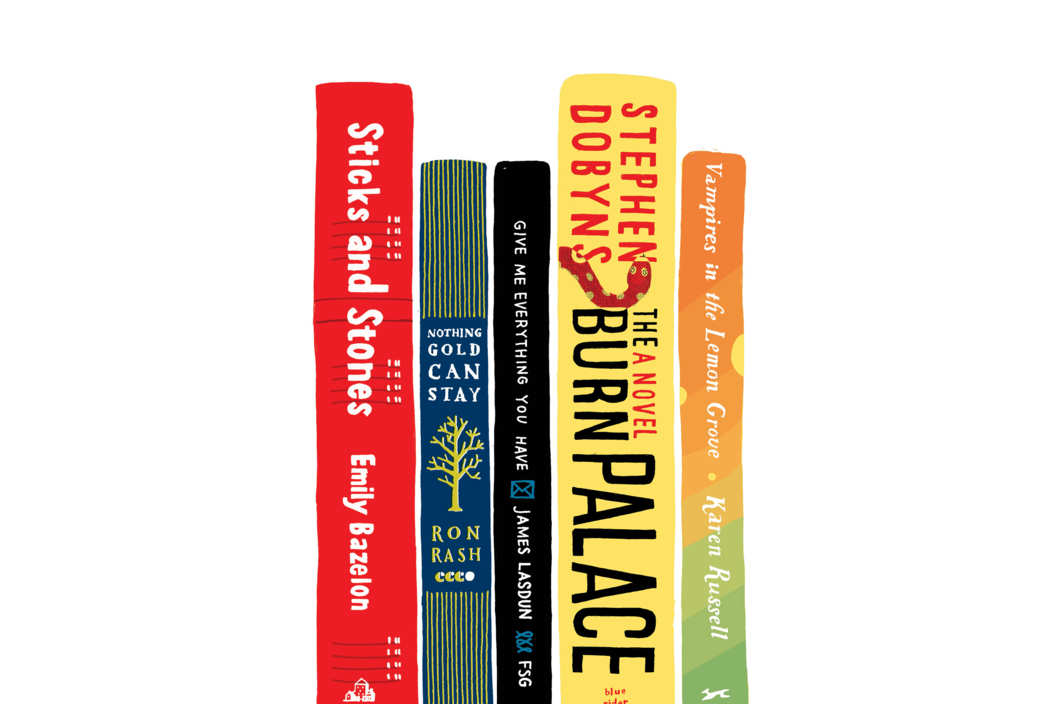 Give Me Everything You Have: On Being Stalked
By James Lasdun; FSG; 218 pages; $25
As the title suggests, there are two characters central to Lasdun's harrowing — and that word couldn't be more appropriate — true tale of being stalked. There's "Nasreen" (the "Give Me Everything You Have" half of the titular equation), a young, initially unassuming M.F.A. student, who through the course of seven years of nearly daily e-mails reveals herself to be an unstable Lasdun-obsessive. Her hostility manifests itself through a series of false accusations: claiming that her onetime mentor plagiarized her work, based characters on her, and, much more insidiously, sexually abused her. And while the e-mails he excerpts offer little beyond a voyeuristic thrill, Lasdun's knack for self-exploration elevates the narrative. He shows us the effect that the stalker has on the stalkee, and we learn that Lasdun has become equally obsessed — not with Nasreen but with her obsession with him. Victimhood consumes him, and what better evidence than the fact that he's now written a book about the experience. Whether he intended to or not — and the book suffers from his lack of self-awareness on this point — he's proved Nasreen right on one account: She has inspired his work. Wait for Paperback
Vampires in the Lemon Grove
By Karen Russell; Knopf; 243 pages; $25
Russell's 2011 novel Swamplandia!, a finalist for the Pulitzer Prize, concerned a trio of precocious siblings coming of age in a cut-rate theme park in the Florida Everglades. At its best, it read like Carl Hiaasen channeling Katherine Dunn: inspired, funny, freakish, smart. At its worst, it flirted hard with the quirky and the cute. But there's no whiff of cuteness in her new short-story collection, Vampires in the Lemon Grove. Constrained by length — or just maturing as a writer — Russell trims the schmaltz and keeps the bone. She's always had a taste for the uncanny, and in these stories, familiar human emotions leap into relief against backdrops of almost Tim Burton–like weirdness. In addition to the titular vampires, there's a flock of supernatural seagulls, a mysteriously shifting tattoo on the back of an Iraq War vet, a sweatshop full of bioengineered Japanese women laboring as human silkworms, and a barn full of dead presidents reincarnated as horses. That last story works less well than the others — it never quite rises above its funny conceit — and another, about a competition between krill and whales, reads like an overly long "Shouts and Murmurs." Mostly, though, these stories hang right at eye level. In the one that opens the collection, Russell writes that bats, up close, look "fragile, like something internal flipped out." Her stories, by contrast, are as robust as can be. But they also look like something internal flipped out: us. Buy It
Sticks and Stones: Defeating the Culture of Bullying and Rediscovering the Power of Character and Empathy
By Emily Bazelon; Random House; 386 pages; $27
Bazelon's well-timed study of bullying is exactly the sort of thing an editor would've ordered up in the past couple of months, and she probably could've gotten away with turning in a rush job. But this is far more substantial: Bazelon — in part while reporting a long series of stories for Slate — logged a huge amount of time with three kids whose lives had been upended by schoolroom torturers, and we spend a lot of time seeing the complexity of their school and home lives. She does not stint on the psychological literature, but the result never feels dense with studies; it's immersive storytelling with a sturdy base of science underneath, and draws its authority and power from both. Buy It
The Burn Palace
By Stephen Dobyns; Blue Rider Press; 464 pages; $28
A series of creepy and possibly even satanic events set the citizens of Brewster, a rural Rhode Island town, on a literal witch hunt. This mystery thriller leaves certain conventions of the genre firmly intact — not only is there a hard-boiled, emotionally repressed detective and a seductive blonde journalist, there's also the way that said detective hates journalists but appreciates the athletic build of this particular one, and so on. But the bizarre specifics of the gruesome crimes plaguing the town diverge enough from the formula to keep things interesting: There's a missing newborn (replaced in his crib by a snake), a pack of murderous coyotes, a Wiccan coven, and a kid with telekinesis. It can be a bit hard to keep all the small-town characters straight, but veteran detective novelist Stephen Dobyns reveals how easily people can get worked up into hysterics about evil they can only imagine, even as they miss the evil right in front of their eyes. Buy It
Nothing Gold Can Stay
By Ron Rash; Ecco; 239 pages; $25
The fourteen stories in Rash's latest collection revolve around the author's perennial subjects, the denizens of the backwoods Carolinas. He draws his characters' lonely, often desperate lives in spare, precise prose, juxtaposing the timeless feel of the Appalachia setting — small farms, ancient woods, bears — with the modern intrusions that drive narrative — here, it's often drug addiction. There are some grace notes, such as the dreamy, eerie story that details the otherworldly connection between a diver and the body of a drowned girl he has been tasked to retrieve. However, many of the narratives feel rote; the story of a high-school couple, one half of which escapes to college while the other doesn't, isn't fresh to any reader, nor one featuring men who betray old confidences to fund their addictions. And the tales set in the past tend to feel like a costume drama — their settings not as lived-in, their characters not as nuanced. Fans of Rash's grim, darkly humorous depiction of these hardscrabble lives will be satisfied, but for other readers, this is worth no more than a wandering glance. Skip It
*This article originally appeared in the February 11, 2013 issue of New York Magazine.