Crouching Tiger, Hidden Dragon Sequel to Start Shooting in May
Ang Lee is not involved.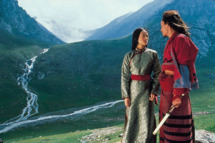 Deadline reports that the Weinstein Company will start production in May for a sequel to Crouching Tiger, Hidden Dragon. This is over a decade since the original came out and won four Oscars. Though the film will be based on the same source material, "The Crane-Iron Pentalogy" by Wang Du Lu, the original's writers and director won't be returning. Veteran Chinese director Ronny Yu has replaced Ang Lee and John Fusco (The Forbidden Kingdom) penned the script. Either way, expect people flying around in lush landscapes.