Directors Guild Snubs David O. Russell and Quentin Tarantino
David O. Russell = snubbed.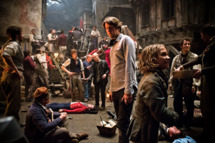 Today, the Directors Guild of America announced its nominees for Outstanding Directorial Achievement. The list includes first-time nominee Ben Affleck and four previous winners: Kathryn Bigelow, Ang Lee, Steven Spielberg, and Tom Hooper. Wait, what? The absence of David O. Russell and Quentin Tarantino is interesting, especially given how critics have received Les Misérables. (Audiences have been much more enthusiastic.) This suggests that, contrary to the Internet's naysaying, Hooper and Les Miz are in a strong position before Thursday's Oscar nominations. One day more (and one day after that)!