When DVRing Tonight's 30 Rock Finale, Add Extra Time to the End
"Stuff happens in the tag," says a <em>30 Rock </em>producer.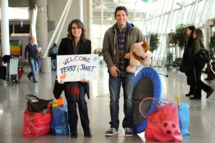 Apparently tonight is the hour-long finale of 30 Rock. If you won't be home to watch, 30 Rock producer Jack Burditt tweeted this very important bit of information: "Those planning to DVR the 30 Rock finale tonight, allow extra time at the end. Stuff happens in the tag." Act accordingly. Let's hope that "stuff" is Tina Fey saying, "Just kidding. See you again next week."