Entourage Movie Gets a Green Light
Showrunner Doug Ellin will direct.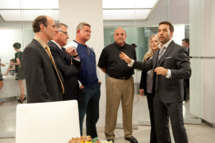 A few months after Entourage creator Doug Ellin was reportedly inches from the finish line on a screenplay, the film has gotten the go-ahead from Warner Bros. Ellin will direct, and the cast is beginning to cut deals. "That's about as far as the studio has gotten at this point, and there is no start date," Deadline reports. If we're following the Sex and the City model, this might take two films before we know if it's a good idea.